We are a general medical and dental practice office that has been in Brooklyn's Avenue U for over 9 years. Doctor Jack Fatiha, MD is trained in Wayne State University's general medicine program and worked in Winthrop Hospital's emergency room for over 2 years before serving patients in his private practice for 14 years. Based in 4,000 square feet of a new building with state-of-the-art equipment, we offer cardiology diagnosis, urgent care, general medicine, minor surgery procedures, and cosmetic treatments. In addition to our medical practice, we offer general dentistry services 4 days a week from Sundays to Wednesdays. We are in a close-knit community and our doctors offer the personalized service each and every patient deserves. We always enjoy seeing our patients, some of which have been with us since we opened doors 9 years ago. In 2014 we moved to a new facility in a newly built building that houses our practice's state-of-the-art exam and procedure rooms and technology. Our family-run practice affords you a personal touch to your visit where we care for you as a neighbor and not as a number.


Meet Our Team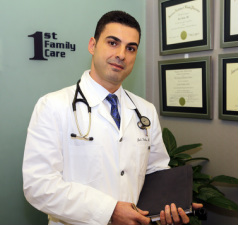 Dr. Jack Fatiha - Resident Doctor
Dr. Fatiha has been an honorary surgeon and consultant for the Fire Department of New York (FDNY) since 2013 and has cared for former mayor Michael Bloomberg and members of the NYPD. Dr. Fatiha uses the biopsychosocial model (BSP) of medicine approach for caring for patients, not only treating the illness or disease, but also focusing on state of mind and emotions, and taking into consideration social, environmental, and cultural factors. The emergency room should only be a last resort in case of a life-threatening emergency. There are many things that can be done in a doctor's office for a close and personalized care. For centuries doctors had to treat everything from chickenpox to heart attacks and severed limbs. Today, there are many different types of specialists that will treat a specific part of your body, but Dr. Fatiha uses BSP to treat his patients wholly, caring for and treating underlying causes of an illness or disease, and not only its symptoms. A former resident of Winthrop Hospital's ER for over 2 years, Dr. Fatiha has seen and treated all kinds of injuries and emergencies, bringing that expertise to his private practice. Patients treated in our family practice are treated wholly and attentively.


---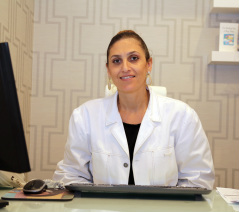 Dr. Maya Mouazeb - Dentist
Dr. Mouazeb has been practicing dentistry for over 15 years and in her own private practice, First Family Care, for 9 years. She obtained her DDS from New York University College of Dentistry and was one of the first dentists hired in the biggest dental practice chain in America, Dental Dreams. She worked at Mount Sinai Hospital's Oral and Maxillofacial Department and did her dental residency at Peninsula Hospital. Dr. Mouazeb's mission is to provide people from the community with the best dental services with warmth and commitment to quality. All staff members are united in this effort to make each patient as comfortable and satisfied as possible.
---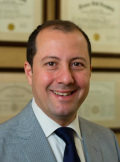 Dr. Ali Aboufares - Interventional Cardiologist


---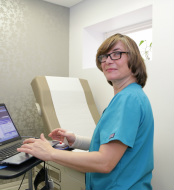 Medical Assistant - Tatyana
Our medical assistant has been a practicing registered nurse for over 17 years and has been with us for over 2 years. Her addition to the team is invaluable, as she loves caring for others and is very patient and kind with children and weary patients.
---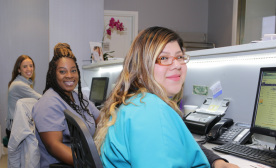 Our staff - You will be welcomed at the medical front desk by our medical staff who speaks Spanish, French, and Portuguese. In addition, the dental staff speaks Arabic. At the front desk for dental services, you will be welcomed by Cynthia who will introduce you to our dental hygienist and our dental assistant.
---